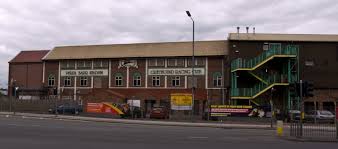 Perry Barr Racing Live Online, Dog races at the Perry Barr Greyhound Stadium.
Previously known as the Alexander Sports Ground, Perry Barr is one of the top English racetracks for greyhound racing and features a huge annual fixtures list of dog races. The stadium is located in Birmingham and has been open for 85 years. Originally intended as an athletics ground, the stadium now hosts dog racing and speedway only.Dog races at Perry Barr generally take place every Friday and Saturday evening and have done since 1990. Doors are usually 6:30 with the opening fixture at 7:30. Previous top annual races held here include the likes of the Scurry Gold Cup and the Birmingham Cup, both are no longer run at Perry Barr however. Races also take place earlier in the day on Sunday and Tuesday.
Venue: Aldridge Road, Perry Barr, Birmingham, England. For all the latest live streaming from Perry Barr Stadium and the best online coverage of dog racing, see below!
| | |
| --- | --- |
| Stream Provider | Live Streaming Link |
| | Perry Barr Racing live at StreamPig! |
| | Perry Barr Racing live at WLS! |
| | Perry Barr Racing live with Greyhounds UK! |
| | Perry Barr Racing live on Sport TV! |
| | Perry Barr Racing live on Sport TV! |
* 18+ Only, T&C Applies, Geo Restrictions Apply, Funded Accounts Only!
Streaming:
Get the latest streams for Perry Barr Racing live on PC, Mac, iPad or iPhone.
Perry Barr (Bags) – Midweek Fixtures:
11:11 Race 1 (D3) 275m
11:28 Race 2 (HP) 480m
11:42 Race 3 (A7) 480m
11:57 Race 4 (A3) 480m
12:12 Race 5 (A7) 480m
12:27 Race 6 (A4) 480m
12:42 Race 7 (A8) 480m
12:58 Race 8 (A2) 480m
1:12 Race 9 (A5) 480m
1:27 Race 10 (A1) 480m
1:44 Race 11 (A6) 480m
1:58 Race 12 (A4) 480m
TV Channels for Perry Barr Racing:
None available at present.